Maybe it's just me, but I'm not too keen on shop-bought dressing up costumes.
You know when the supermarket is full of vampires and witches for Halloween and Harry Potter and Disney princesses for World Book Day (as if Disney has anything to do with books).
I prefer to make my own costumes. They take time, money and effort, but you'd be surprised how much better they look than all those shiny supermarket creations. Most importantly your kids can get involved, which makes it even more exciting for them to wear the costumes they helped to make.
So here is my versatile black cat, which is great for Halloween, but was also used for a Superhero day (my daughter was Cat Woman, I just swapped the skirt and tights with a pair of black leggings and a belt).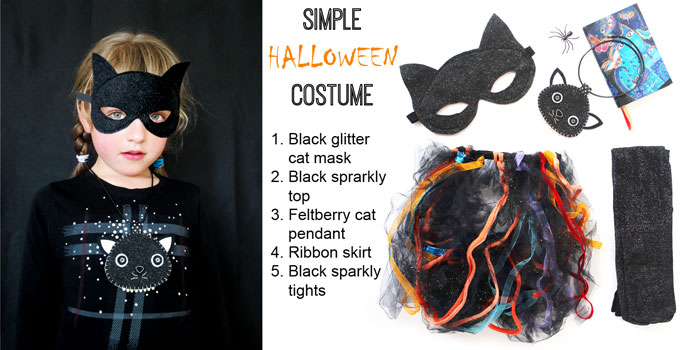 1. We made the black glitter cat mask ourselves. First, we made a paper template for the mask, checked that it fits perfectly and cut out the main piece from a sheet of black glitter craft felt. Then we cut out a pink cotton lining for the mask (without the ears) to make it stiffer and to have a nicer fabric against the face. To make sure the lining doesn't shed, I backed mine with a piece of iron-on interfacing, but you can finish the edge with a zig-zag stitch. I machine stitched the two pieces together, securing a piece of elastic on both sides.
2. I didn't buy the top specially, we just used one we already had.
3. The pendant is not really necessary, but as I make them for my shop, the Cat Woman politely asked me if she could have it.
4. The skirt is made using this easy no sew method. I bought a metre of black tulle fabric, cut it in strips and added some bright colourful ribbons.
5. Sparkly tights completed the look.