Georgian Vegetable Ragout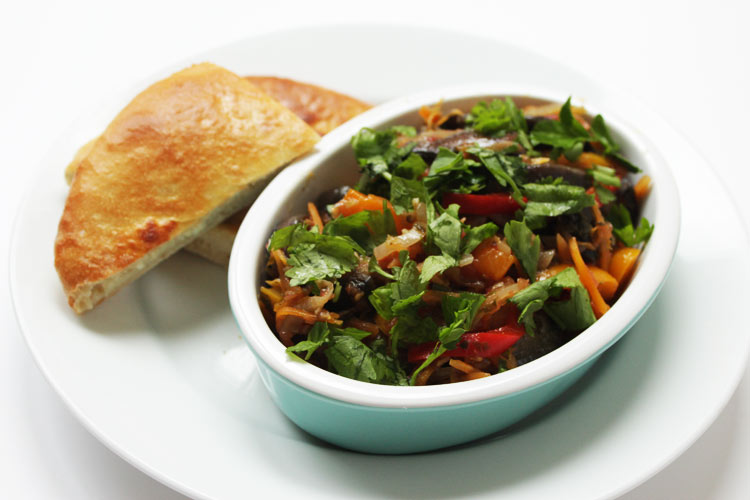 I tried Ajapsandali for the first time last year (twenty years too late!) and was blown away with the wonderful flavours of this dish. Just like its cousins ratatouille and caponata, it uses lovely autumn vegetables such as aubergines, peppers, ripe tomatoes and onions. But while I find ratatouille and caponata a bit boring, Ajapsandali makes me happy and leaves me wanting more.
The most important thing about this dish is that all the vegetables are cooked separately so they are all completely cooked before going into the dish.
You need to use quite a lot of oil to precook the vegetables, so after cooking each vegetable, I drain it very well on double layered kitchen towels.
It is very important not to overcook the finished dish, as the vegetables are already cooked to perfection. I use a slow cooker, but don't worry if you don't have one, it is just as easy to cook on the stove top.
Ingredients
1kg aubergines (3 big or 6 small),
500g carrots (3 big carrots)
500g peppers (3-5 red, yellow or green peppers)
1 chilli pepper (optional)
250g onions (2-3 onions)
5 garlic cloves
700g ripe tomatoes or 2 x 400g tins chopped tomatoes
Small bunch each of basil, parsley and coriander
1 tsp ground coriander
1 tsp khmeli-suneli
Vegetable oil for frying
Salt and freshly ground black pepper
1. Wash the aubergines, cut them into rounds about 1cm thick and then cut each round in half. Put the aubergines into a big colander, sprinkling each layer with salt. Leave for 30 minutes and then wash them under a cold tap and squeeze a bit to get rid of the excess water.
2. Heat 2-3 tbsp of oil in a large frying pan and fry aubergines in one layer until they are golden and cooked through. Repeat with all the aubergines and drain them well. Put the aubergines in a large saucepan or your slow cooker.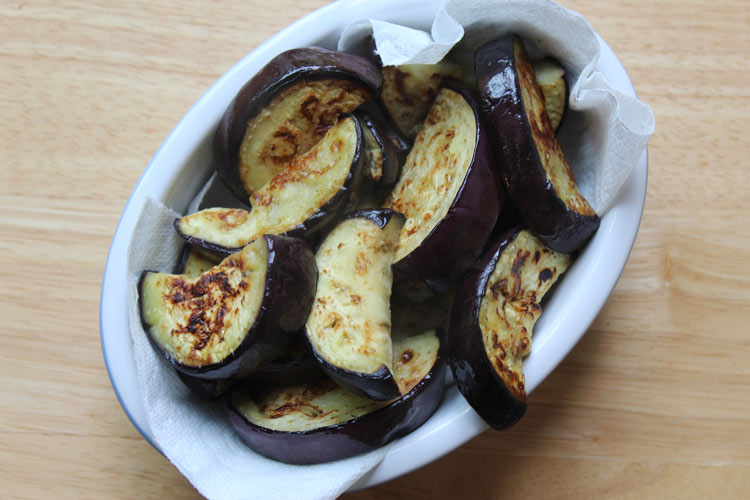 3. Add 2 tbsp of oil to the frying pan and fry the peppers until they are soft. Drain and add to the aubergines.
4. Cut the onions into thin half moons and the carrots into thin rounds or matchsticks. Heat about 6 tbsp of oil in the frying pan and cook until the vegetables are soft and cooked through. It is important to use quite a bit of oil when cooking the onions and carrots as they should not be fried, but cooked gently to soften. Drain the vegetables and add to your peppers and aubergines.
5. Chop finely parsley and basil and lightly fry in a small amount of oil. Add to the cooked vegetables.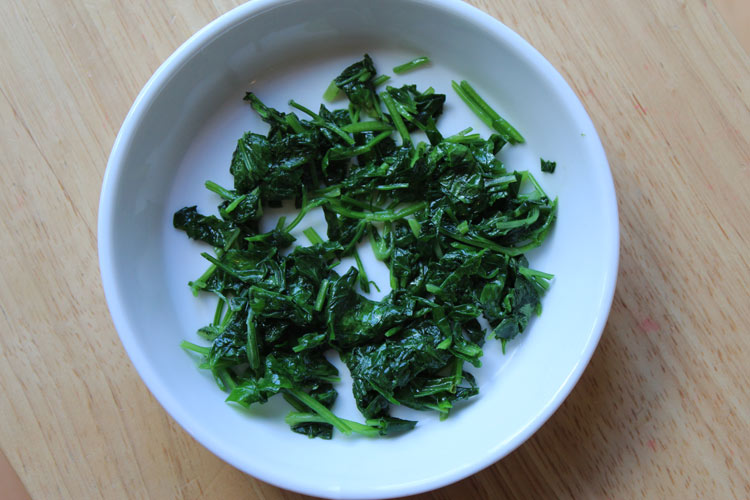 6. Cut the tomatoes in half and, holding the skin side, carefully grate them using the side of the grater with the large holes. You should be left with grated tomato pulp. Discard the skin and add the pulp to the pan. If you don't feel comfortable using the grater, pour boiling water into a bowl with the tomatoes, then peel and chop them finely.
7. Add the tomatoes to the vegetables. Also add coriander and khmeli-suneli to the saucepan. You can add some chilli if you want a bit of heat, but don't overdo it. This dish benefits from gentle spice, but the flavours can be ruined by adding too many chillies.
8. Make a garlic and fresh coriander paste. Add a bit of salt to the garlic and mash it in the mortar with a pestle to a paste consistency. Little by little add chopped coriander to the paste and mash it all together. I use my small food processor to make this paste; just add a bit of water to the garlic and coriander to make it easier to process.
9. Very gently mix the vegetables and spices together in the saucepan, add salt and pepper to taste, heat the dish up and cook for about 15 minutes. If you are using a slow cooker, cook for 1 hour on low.
10. Leave it covered for a while to develop flavours. Serve hot or cold with lots of fresh herbs and freshly ground black pepper. It will taste even better the next day!